This post is about 7yo Vee's self-led project. Over the weekend, he folded many origami cats. Then he thought of laminating them, perhaps for sale to raise funds for charity.
He was super excited and kept bugging me to laminate the cats. Finally after school today, we started working and split the duties:
#1 Vee: slot the cats into laminating pouches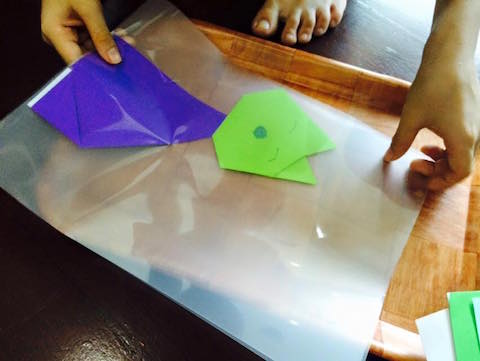 #2 Jae: check that the laminating machine is heated up, green button blinking
Mummy: handle the machine
#2 Jae: collect the finished item
Vee figured that patting the laminated sheet cools it down a bit faster. (Mini Science self-discovery)
We completed the first cat bookmark sample and he had better ideas for the remaining ones.
We only had 30 minutes for this project today. There were 4 pages of writing homework, some corrections, and revision for Chinese and English spelling (all from school). Thankfully, he's an efficient worker and I still managed to tuck him into bed by 8+pm.
Really hope homework would be minimal and we could continue to do after-schooling activities.
P.S. Check out my workshops here