Why accelerated learning?
As parents, we know how competitive the world is right now. Companies face global competition; employees face increasing costs of living and a globally competitive job market; children face highly-demanding education systems.
Accelerated learning can help our children to:
handle the demanding curriculum in school
free up time for pursuing interests and rest, and
unleash their potential and live up their dreams
So how do we do all these? Here are three core elements of unleashing your child's potential:
1. LOVE: Show explicit love to your child
When the child feels our love, she'd feel secure enough to explore and learn. All of us love our children (else you won't be reading this article right now). But as she grows from a cute baby to a toddler with big tantrums to a preschooler who challenges us daily, we may be too immersed in teaching (or disciplining) her instead of showing our love.
Since I have 3 young children (6yo Vee, nearly 4yo Jae & nearly 2yo El), it's even more challenging to give sufficient individual attention to each one of them.
The easiest way that works for us:
Every morning, when my children wake up, I give them each a big long hug and say "Mummy LOVES you. You're a calm and cooperative child. Let's have a wonderful day today."
As Prof Shichida advocates —  keep delivering positive messages into the child. This assures them and helps set the tone for positive behaviour. I also see it as a self-fulfilling prophecy.
2. GUIDE: Equip your child with powerful learning skills — Positive Attitude + High-Speed Learning + Super Memory
If our children learn fast and remember well, they'd be able to enjoy learning in school and have more time for rest and play.
To achieve high-speed learning, it's important to let your child learn in a relaxed state of mind.
It's not how much we teach the child; it's how much he learns.
The more relaxed he is, the more he loves learning, the better he learns. And once he's able to learn fast, he can use this skill on any subject of his interest — language, math, science, arts, sports, the sky is the limit.
To build his memory, the most important is practice, practice and practice. New research shows that our brain is like a muscle. The more we exercise it, the stronger it gets.
Every day, play memory games with your child. Use cards, small objects, things in the house, verbal memory games, whatever is convenient for you. As long as your child is working out his memory regularly, he'd be able to better retain what he learns and build on that prior knowledge.
Even though memory work sounds very academic, it's waaay beyond that. The child needs a strong memory to remember those 1001 life lessons and moral values that you're trying to teach him.
Every morning, after the hugging mentioned above, my older kids recite our "house rules" at high-speed:
"My dear XXX, may I know what you remember?"
"Mummy, I remember…
gentleness
calmness
harmony
politeness
diligence: I'd do my work in the morning and rest in the afternoon. I shouldn't disturb when others are working.
honesty"
Recently, I've finally found time to frame the rules and hung them on the wall so that we'll ingrain them into our hearts.
(You may download the free printable at the end of this post.)
3. OBSERVE & respect your child's development
If I need to choose the ONE MOST important thing I learnt from Dr. Maria Montessori's books, it's "observation skills". When we observe our children, we'd know what work and what don't work on them. So we do more of what works, and remove those that don't work. And we do the right thing at the right time.
Simple concept but hard in practice.
As our children grows, we feel more pressured by our peers and their peers.
"Wow… XXX is reading at 2.5yo… Wow… YYY is writing at 3yo! But mine just wants to play with cars / dolls all day long…"
Sounds familiar?
While it's important to equip your child with powerful learning skills (see point #2 above), it's as important to observe and respect his development.
Do not compare her with other children. Not even among siblings. Or be prepared to be set up for disappointment.
After we demonstrate a lesson, it's up to him to imitate us. If he wants to, great! This activity is probably suitable for him. If he isn't interested, it's ok. Try again next time and show him something else for now. There're 1001 things to teach him anyway, right? So, just move to the next one.
If he tries the activity and doesn't get it right at all, it's ok too. It's the positive learning attitude that really matters, not the immediate outcome. Let him try again. Or demonstrate to him again next time.
Your child is a work-in-progress project, not a completed masterpiece.
It's like growing a flower. We give it sufficient sunshine, water and fertiliser, then it's up to the flower to bloom… when the time is right.
To sum it all up, three core elements of unleashing your child's potential:
LOVE: Show explicit love to him / her
GUIDE: Equip him / her with powerful learning skills – Attitude + High-speed learning + Super Memory
OBSERVE & respect his / her development
—
CLICK HERE: Download our house rules sample (PDF, 25kb)
Simply print, frame and hang. I get RM5 (or SGD2) A4 frames from Daiso and stick them onto the wall with 3M removable velcro.
Includes an extra "Silence" rule so that you may remind the child when silence is necessary. (Credit for the idea goes to Dr. Maria Montessori)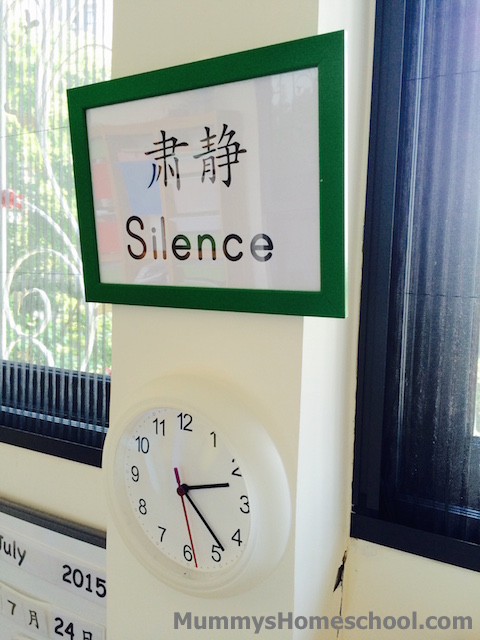 —
Read the rest of the series:
Part 2: The MOST IMPORTANT thing to do before teaching your child