Yesterday, I lost my voice due to a sore throat and cough, so we had "special" lesson time. Since Vee wanted to do puzzles (again?!?), I dug out the new 3D puzzle that we bought many months back. He was soooo excited because he loves the Petronas Twin Towers!
Spent nearly 2 hours fixing it with some of Vee's help… Taa daa…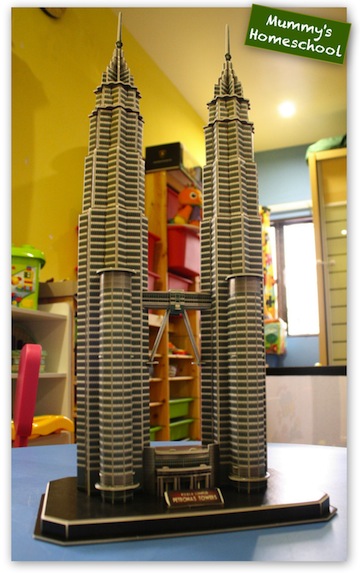 It's beautiful…
Lessons covered:
Numbers: match the number on the instruction booklet to the number on the foam puzzle piece
Fine motor skills: fold foam puzzle piece along the fold-line
Learn to watch while I work
Learn that it takes a lot of effort to complete this masterpiece
All thanks to the lost voice, we finally get to complete our first 3D puzzle.
This is what the box looks like:
Price: RM80, bought at the jigsaw puzzle shop at Tropicana Mall (Kuala Lumpur)
Next, we're going to shop for the Eiffel Tower 3D puzzle!
Sharing time: Are you a fan of puzzles too? Share your favorite puzzles in the comment box below.