I'm still coughing away, so for our "special" lesson, I dug out the wooden puzzles we bought from Perth 1+ year back.
The koala bear puzzle is just right for Vee now. (He couldn't manage it when he tried some months back.) On one side, it connects from 1 to 26. On the other side, from a to z. And amazingly colourful too!
Here's the second puzzle on the world: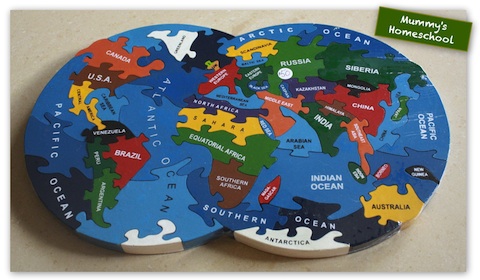 It's very challenging to piece together with no reference and many odd-shaped pieces. I took out a world map poster to guide me, but that was of little help because this puzzle isn't proportional.
When I finally completed it (with very little help from Vee, ha…), the sense of satisfaction was great! 🙂
Price: AUD50 for the world puzzle, from Alphabet Jigsaws at Fremantle Markets (Perth, Australia)
Website: http://www.alphabetjigsaws.com