Ever since I posted Vee's 3 years 3 months old update, several Mummies have been asking me where to buy Montessori furniture and materials. Let's start with the furniture first.
Here are some suppliers I found in Malaysia and Singapore:
Malaysia
1. Osaka Education Supplies
Website: http://www.osakaeducation.com.my/index.html
Tel/Fax: +603-9543 3488
Address (Showroom): Lot 2-079, 2nd Floor, Endah Parade, No.1, Jalan 1/149E, Bandar Baru Sri Petaling, 57000 Kuala Lumpur
What I bought:

White wooden storage c33 (W12 L33 H35), white, price RM250
White wooden tower shelf c48 (W12 L48 H35), white, price RM290 (For wood finishing, price is RM490) – Perfect as a sensorial shelf to display the Montessori Pink Tower
Delivery charge to KL: RM30 per trip

Additional Notes:

Showroom: quite cramp, sells educational toys too
Staff at showroom: patient, answers enquiries, generally good, contactable easily by phone
Delivery: Wrong wooden storage shelf (too long) for first visit, sent again, assembled wheels on the spot, generally polite staff
Delivers to Singapore customers as well
2. Kids Station Marketing
Website: http://www.kids.net.my/
Email: aks@kids.net.my
Tel: +6012-2244 202 (Eric Tan) or +6012-2211 410 (Serene Lau / Lisa Yap)
Address (Retail shop & showroom): Lot 2-73, 2nd Floor, Endah Parade (Carrefour Sri Petaling), 1, Jln 1/149E, Sri Petaling, 57000 Kuala Lumpur
Additional Notes:

May be suitable: Long storage shelf unit (120cm x 80cm x 30cm), price RM380
Shop: same level as Osaka Education Supplies, sells a wide range of educational materials and books
Staff: I bought several books at the store and Serene was able to assist me
3. Medley Hallmark
Website: www.medleyhallmark.blogspot.com
Online catalogue: http://www.scribd.com/mobile/documents/5061927/download?secret_password=1u4bak87b51zmu830u2t
Email: medleyhallmark@yahoo.com, Louis
Tel: 603-40238608
Office: No. 27-2, Jalan 1/23F, Off Jalan Langkawi, Taman Teratai Mewah, 53000 Setapak, Kuala Lumpur, Malaysia (No showroom)
4. Early Learner Furniture Solutions
Website: http://elfs.gbs2u.com
Tel: +6012-201 7218 (Lily Lee), +6012-266 5454 (Victor Ng), +603-4280 9625
Address: No. 16 Jalan Utama 2/24, Seksyen 2 Taman Perindustrian Puchong Jaya, 47100 Puchong Selangor, Darul Ehsan, Malaysia
5. IKEA Damansara
Website: http://www.ikea.com/my/en/
Address: No.2 Jalan PJU 7/2, Mutiara Damansara, 47800 Petaling Jaya, Selangor Darul Ehsan, Malaysia
What I bought:

TROFAST toy storage series in pine wood, option to use with the boxes or wooden planks (as shelves)

Additional Notes:

I couldn't find any low long shelves suitable for Montessori homeschool at IKEA
TROFAST boxes: suitable to store toys / materials / supplies; small boxes as sensory bins or the day's activities; easy to rotate because they slide into the frame instead of being stacked up on one another
The TROFAST wooden planks can easily slide in and out of the frame, so the child may be distracted by it
Here's a picture shared previously at Mummy's Reviews: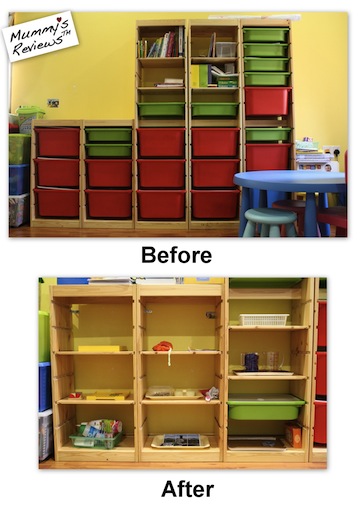 Singapore
1. New Age Kidz
Website: http://www.newagekidz.com
Tel: +65 6748 9060
Address (Showroom): 3023 Ubi Road 3 #05-15A UbiPlex I Singapore 408663
2. IKEA Singapore – Alexandra and Tampines
Tips to buying homeschool furniture:
Measure your room and sketch a map with dimensions before visiting the showroom or shopping online
Google for "kindergarten furniture malaysia" or "kindergarten furniture singapore"
Ask preschool / Kindergarten staff to refer you to the school's supplier
If possible, buy direct from manufacturer or distributor for best prices
Try to keep to plain or wooden colours (instead of colourful shelves). This helps the materials look more attractive. (On hindsight, I find the TROFAST red boxes too "loud" in the classroom.)
If you've more shops to add to this directory, please mention them in the comment box below. Thank you!