For a successful "right brain" and Montessori learning session, it's important to prepare a conducive environment. This post (Part 1) shall share how our learning area was designed. Part 2 (when ready) shall cover an alternative arrangement.
Background:
In our previous home, we used a bedroom as our learning room. Being an old house, the room was considerably spacious with good natural lighting.
We used this arrangement when we had two children — Vee was 4.5 years old, Jae was almost 2 years old.
1. Right brain activities segment
We usually start off with right brain activities for a few reasons:
they help the child relax and get into the effective learning mode (alpha state);
certain topics may be covered in flashcards, with no explanation needed. The child may then explore these in greater depths during the Montessori segment;
activities are more guided, especially for a younger child. It's easier to start with closely-guided activities then continue with free choice & movement Montessori activities. If a young child starts with traditional Montessori activities, it may be hard to gain his attention for closely-guided activities.
To help the child focus on parent-guided right brain activities, I turn the Montessori shelves (with castor wheels) around to create a plain-looking room.
(Find the list of Montessori furniture shops here.)
There's also no free-play toys in sight, only purposeful learning materials. Toys have been kept away, either in a separate room, store room or locked wardrobe. This helps the children focus on purposeful play.
Before and after the work period, they still get lots of free play time.
I like using a drawer-system to store my in-use "right brain" learning materials. The basics:
senses games: 1 box
flashcards: 1 box
memory games: 1 box
(Materials on rotation are stored in a closed wardrobe or boxes away from child access.)
2. Montessori segment
After we're done with the core "right brain" learning activities, we move to Montessori, where the child has full movement and choice.
Movement means the child walks about the room or learning environment.
Choice means the child chooses his work.
I reverse the shelves to reveal the attractive learning materials. I may give a new presentation, invite the child to try, then let him decide his work for the period.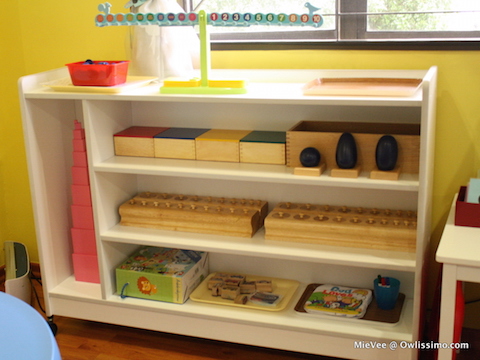 Toddler Jae could disrupt Vee's work, so I divided the room into two learning areas, with the help of a Montessori shelf and a large play-yard.
The toddler has separate activities in the toddler learning area to keep his hands busy.
The above is only an example of a home learning area. Everyone's existing space and design is different, so just work around what's available.
Other ideas:
"Right brain" activities at dining area; other activities in living room
"Right brain" activities in bedroom; other activities in living room
—
P.S. To learn more about successful home learning & unleashing your child's potential, check out my workshops HERE.