Moving into 18 months old, Jae has settled a lot into various Shichida and Montessori homeschooling activities. Since he wants to do whatever Vee is doing, I just have to simplify most of Vee's activities for him. For instance:
Shichida games: Vee works with 4 and more images / objects; Jae works with 2 to 3

Montessori nomenclature 3-part cards: Vee does ~10; Jae does ~3
Montessori pouring: Vee works with water and funnel; Jae works with ice and scoop
Montessori knobbed cylinders: Vee does 10 (blindfolded); Jae does 6 to 10
Quite an easy job for me! 🙂
(Please pardon the lack of photographs below because my camera has been sent for repair.)
Learning
Right Brain Education
Jae's still attending Shichida weekly classes with Daddy. I accompanied him for a few make-up classes and he was rather cooperative. Perhaps he has settled down more or because Mummy knows him best!
Home Practice: We skipped home practice for about 2 months recently due to my pregnancy. We're back to momentum now and he especially enjoys memory games, speed reading and flashcard sessions.
How to flash cards to both kids: Jae watches from inside the play yard while Vee watches from outside. This way, they're side by side without disturbing each other.
Shichida Worksheets: He loves doodling over his worksheets, which are too advanced for him right now. Ha… so I hold his hand and get 1 page done quickly, then let him continue doodling on another sheet of paper.
Montessori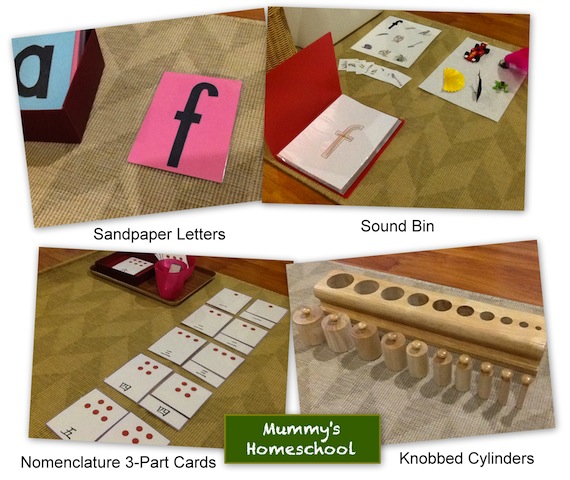 Off-lessons, he'll wander into the toddler area and bring out something to do (or throw about!) During lesson time, he wants to be very involved, so he works on a floor rug, on a small table, or waits inside the play yard (with several activities he should like).
Shelves: He's doing quite a number of shelf activities. Either I supervise him VERY closely when he retrieves / returns them, or I'll get them for him.
Practical Life: He's a rather tidy boy — tries to get the floor rug for floor work, and tries to roll it back after he's done. When he makes an accidental mark on the table with a marker pen, he'll wipe it up with a damp cloth. When he's hands are stained with ink, he'll want to have them washed off. The best part is he remembers where each activity should go back onto the shelves, and tries to return them accordingly.
He's good at feeding himself with fork, and getting better with the spoon. Also enjoys scooping and pouring small objects, helping to sort clean laundry, undoing velcro tabs, buckling and zipping. He loves the scoop so much that he's been holding it everywhere and even to sleep for the past 2 nights!
Jae also loves kitchen pretend play, serving me a teacup or Lego bricks in a pot or plate. And he expects me to pretend too by making chewing sounds like him.
Hand Dominance: He tends to prefer using his left hand for some activities. Both my mum and I are ambidextrous, so we shall observe his preference.
Sensorial: He completed Sets 1 and 2 of the knobbed cylinders. It amazes me how he's able to self-correct and fit each cylinder into the correct slot. Thanks to Dr. Montessori's ingenius design!
He stacks more than 5 wooden blocks, fits more than 10 Lego Duplo 2 x 2 pieces into a tall tower, and likes to connect the Lego Duplo railway track.
He also completed the Melissa & Doug Fish Colors Mix N Match Peg Puzzle*, demonstrating his ability to match similar colours.
Language: Finally, he's bringing books for me to read to him by saying "da" (for 读,meaning read). He enjoys it when I speed read and even imitates me doing so by flipping the pages real fast. Sometimes, he stops me from reading to Vee and insists on me reading HIS chosen book.
When he recognises objects in books, he'll point excitedly and name them. Favourites: star, circle, fork, car, bus, motorcycle
Sound Bins: We're going through initial sounds using the Sound Bins presentations in Karen Tyler's album. Both boys love the cards and miniature objects (especially animals). (It took a lot of effort to prepare the materials. In the end, I simplified it by doing away with most cut-out felt alphabets.)
Mouthing stage: Once, he was scooping EXPIRED dried pasta. The moment I turned around to observe Vee, he ate one. Bleah! So he's back to scooping bigger objects and definitely not food items yet. And this boy even puts stickers into his mouth!
Communication
Speech: He still isn't talkative. When he talks, he tends to be loud and repetitive as before. Often, I'll guess what he needs and he'll nod his head like Noddy.
He's calling almost everyone at home and loves sticking to his "ba ba" (爸爸 or Daddy) once he's home. And wants him to "ba ba" (抱抱 or carry) him. Generally, his "ba ba" can mean several other things, including baobao (宝宝 for himself), book, ball, balloon and bubbles.
He tries using a few 2-syllabus words such as open, circle and 掉了 (or dropped).
Baby sign language: He uses sign language with some words he says, for instance "bird". For words he doesn't say, he'll also sign. For instance, he simplified "please", "sorry" and "thank you" by stroking his left hand in the same way. I was first quite surprised when he voluntarily signed "thank you" after Vee helped him. If he starts fussing at the dining table for food / snacks, I'll ask "Where are your manners?" and he starts signing "please".
Music: He responds well to music by clapping, shaking or making the relevant hand gestures.
Motor Skills
Jae's still very active and daring.
These 3 months, he figured out how to walk backwards, then on tip-toes. Each time he discovers a new skill, he'll display a huge grin on his face. 🙂
He also manages to climb down 2-3 steps without aid, and even while carrying a small stool. Of course, I watch him while he does these "stunts".
He climbs onto his dining booster seat with ease. Recently, he's less into climbing and more into jumping. He surprised me when he managed to lift both feet off the ground! Then he started jumping like a frog forward and also off my mattress (on the floor). Sometimes, both boys start jumping and pouncing on the mattresses before bedtime and I get a major headache.
These few months, we've been bringing Jae to swim once a week while Vee has his swimming lesson. He uses a floating vest (bought at Mothercare, when Vee was young) and is learning to kick water. He enjoys going down the slide and looking at the birds flying above us.
Behaviour & Social Skills
He picks up all kinds of behaviour from Vee, including making strange noises, shouting, throwing toys, jumping, etc.
On his own accord, Jae has also started pinching, using toys to hit Vee, and throwing toys at him. Of course, he does these only occasionally.
Handling inappropriate behaviour: When he does so, I'll immediately intervene, try to distract him, use a firm voice to stop him, bring him somewhere to calm down, ask him to breathe, etc. I also ask Vee to come straight to me when "attacked", so that Mummy can protect him. He's not supposed to fight back.
He's rather sociable nowadays, and will play closely with his cousins. When someone comes home, he'll go to the main door and call out their names. He'll also walk over to watch what kakak is doing and call her many times. He also likes Vee's music teacher.
When Jae woke up earlier than Vee this morning, I brought him to the schoolroom so that Vee could sleep longer. He lounged on the armchair for a while, touched something from the toddler area, then climbed up to get colour pencils to doodle. After some doodling, he wanted to pull out the floor rug and work with the Sound Bin. When I saw the 18-month old's enthusiasm in learning even before I was wide awake, I knew that our homeschool is moving in the right direction.
We'll try to enjoy doing more activities these 5 months before baby #3 arrives and we take another long break. The rest of Jae's updates on feeding, pre-potty training and sleeping are posted at Mummy's Reviews here.
—
P.S. You're invited to "Like" Mummy's Homeschool Facebook page here.
—
Disclosure: Mummy's Homeschool™ is an information site that receives compensation if readers make purchases from affiliate links (these are marked with an *). If we receive compensation from the companies whose products we review, this would be disclosed. These compensation help to maintain and grow Mummy's Homeschool™. We test each product thoroughly and give ratings according to our experience with it. We are independently owned and the opinions expressed here are our own.