Since launching The Ultimate Right Brain Math Program*, I've received many enquiries. Here are some of the answers for sharing…
Q: What is the difference between the Shichida 63-Day Math Program and the Math Dot printables?
A: The Math Random Dots printable consists of dots and numerals 0 to 100, which can be flashed in different ways as suggested in the lesson plan ideas.
The Shichida 63-Day Math Program is a way to flash specific quantities or equations on each day. In the pre-packed set, each day's cards are placed in a separate cardholder.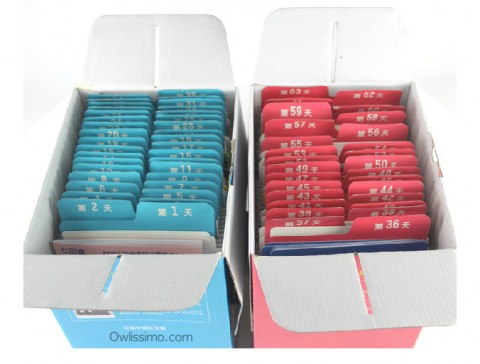 It covers quantity, addition, subtraction, multiplication, division, multitudinous equations (longer equations with brackets), moving systematically from dots to numerals.
After completing one cycle (with minimal number of days rest in between), rest for 1 month, do dot worksheet / practice in daily life.
Repeat cycle, rest
Repeat cycle, rest
Repeat cycle, rest.
It is suggested to complete 3-4 cycles in a year.
This supposedly helps the child in mental calculation using dot imaging / intuition.
The list of equations and instructions are copyrighted, so the easiest and most reliable way for non-Shichida students to access it is through the original flash cards package.
I used to go through the cycles using the list of equations and red dot cards.
Downsides: need to prepare the cards every night, for next day's lesson. Ended up missing days.
Also, it's common for children to get bored of red dot cards within the cycle or at subsequent cycles.
With the pre-packed cards, it's very easy to be on schedule.
Vee, Jae and Baby El love the variety picture dots.
Also, if I miss a day, it's easy to go through 2 days' set if the child likes it.
Q: If the Shichida 63-Day Math Program already covers quantity as well as 4 operations (addition, etc..), does it mean we don't have to flash the printable dots? It'd be overlapping?
A: In Shichida class, the sinsei flashes Random Dots, Variety / Picture Dots, Organised / Pattern Dots, and some Addition for toddler class.
At home, parents are supposed to go through the 63-Day Math Program, Addition +1 to +10 and Multiplication.
So in my day's flash cards set, it may be like:
– 63-Day Program Day 10
– other topics
– Random Dots 21-30
– other topic
– Organised / Pattern Dots 21-30
– other topic
– Addition or Multiplication
The 63-Day Math Program covers quantity from 1-50. The main objective is to help the child achieve lightning speed calculation through intuition.
(The older version was the 65-Day Math Program that covers quantity from 1-100. It was later updated to the current 63-Day program to keep the quantity within 50.)
The Printable Random Dot and Pattern Dot Flash Cards cover 0-100.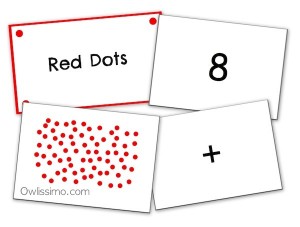 The objective is to help child see various ways of arranging a quantity of dots. It's important to flash until 100, which is an important number. Once the child understands 100 (both arranged or random), she can easily move to 101-200, then 1000's.
If you try the lesson plan ideas, they cover beyond 4 operations. For instance,  odd/even number, squares, etc.
The Addition Flash Cards help in recitation and visualisation of the addition facts.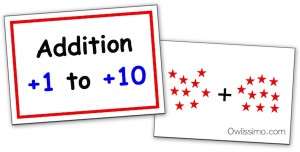 Similarly, the Multiplication Flash Cards help in recitation and visualisation of the times table.
The 63-Day Math Program and Printable Math Flash Cards complement each other, that's why I cover all at home. I believe this complete system helped Vee in his mental calculation through intuition or working out in his head, depending on his choice at that moment.
The strong foundation in understanding numerical relationship allows him to grasp new math concepts easily.
Jae, at 2 years 8 months, recognises small quantity of objects by sight, is trying to count until 100 (both from rote and one-to-one correspondence), and does simple addition.
Q: I've seen another 63-Day Math Program set at a lower price. Can I use that?
I bought 1 set of the original Shichida 63-Day Math Program and 1 of "the other set" (completely different box packaging) to compare.
These are what I noted:
1. The other set: Some consecutive cards consists of random dots in the same pattern, the only difference is adding 1 more dot.
This is a very simple way of creating the flash cards, saving time and cost.
However, for the child looking at the cards, he'd see largely the same pattern, and note the +1 relationship. He may not capture the entire quantity.
Ideally, every card should have a slightly different random pattern. Both the original Shichida 63-Day Math Program and my Random Dot cards offer this.
2. The quality of cards differ: The original Shichida 63-Day set has thick and smooth cards. The other set has cards which are less smooth.
3. The instruction manuals are almost identical, except that "the other set" has paraphrased about every sentence. As a role model to my children, this is a practice I cannot support.
After considering the above 3 points, I decided to help other mums get the original Shichida 63-Day Math Program instead of "the other set".
Have fun with right brain math!
—
>>> CLICK HERE: The Ultimate Right Brain Math Program*
—
Disclosure: Mummy's Homeschool™ is an information site that receives compensation if readers make purchases from affiliate links (these are marked with an *). If we receive compensation from the companies whose products we review, this would be disclosed. These compensations help to maintain and grow Mummy's Homeschool™. We test each product thoroughly and give ratings according to our experience with it. We are independently owned and the opinions expressed here are our own.