This post is on easy and fun activities to teach a young child to read Chinese characters. There's a free flashcards download at the end too, so read on…
Over the past two weeks, the family has fallen in love with this Chinese nursery rhyme — 老鹰捉小鸡 (translated as "the eagle catches the chick"). It's catchy, related to a childhood game in my (and probably your) generation and we can't help singing it.
Flashcards
So I created a simple set of flashcards. After singing and flashing it, I hung it on our big pocket chart*.
I also followed up with these activities:
act out the story
explain the story
This chart is at our homeschooling area, between the living room and kitchen, with good traffic. Whoever walks past has the chance to read the lyrics.
The kids who are learning to write are also attracted to stop and trace the characters with their fingers.
Even the daddy was happy to learn the actual words after work.
Notes for the flashcards:
big and bold words
font: Kaiti. (It is sans serif, without small lines at the end of each stroke, similar to Chinese calligraphy.)
Important: Avoid serif font such as Songti, which adds many small lines and is harder to read. It's also different from the way we teach children to write.
Word Cards – Arranging
While reading Charlotte Mason's The Original Home Schooling Series* Volume 1, I came across her ideas on teaching reading and tried new extension activities.
I printed an extra set of the flashcards and cut out the individual characters:
Then I showed Jae (5yo) the characters one by one while singing slower than usual. It's like slow flashing small word cards.
And I invited him to arrange the lyrics in the right order.
Since he loves the song, he eagerly tried. When he was unsure, I suggested he could check out the displayed flashcards on the pocket chart, look, memorise the character then return. (Montessori control of error)
The activity rug should be a short distance away from the pocket chart so that the child has to memorise the character longer while walking back. Yet not too far that the child finds it tiring. As usual, observe your child's learning needs.
Through this activity, he scampered back and forth several times, looking engaged and pleased.


After arranging the cards, we sang the song again. This is an activity he can repeat independently since it has a control of error.
Word Search
Next, I shuffled the word cards and played "Word Search" game with him. He already loves playing memory games with Progressive Phonics game cards, so I knew he'd like this new game.
How to play:
First player: calls out a card for the next player to find
Next player does the same
If player doesn't know the word, he can check out the flashcards on the pocket chart.
You can make up your own rules as appropriate. Most importantly, the child gets to look at the characters many times to imprint them better while having fun.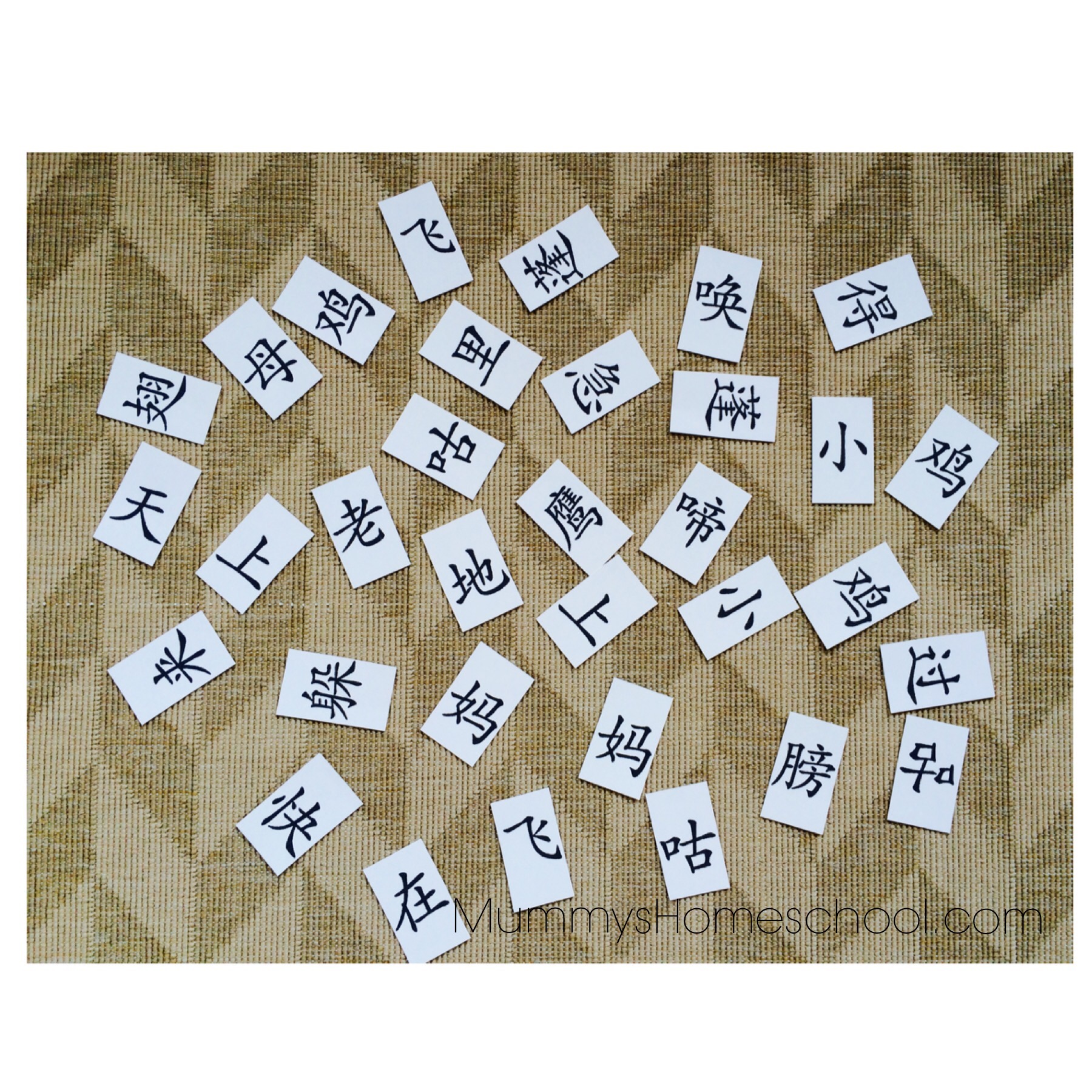 Download your free flashcards here:
Flashcards: Chinese Song 老鹰捉小鸡

Print 1 master copy on cardstock.
Print 1 copy (without title) on cardstock. Cut out individual words. Use for sentence building and word search game.
(You may listen to the song at 9ku.com here.)
The same ideas above can be used to teach English and other languages too. The key is to work from a nursery rhyme or poem that the child loves or would love.
Have fun teaching!
~ MieVee
—
References:
Mason, Charlotte. Home Education: Training and educating children under nine (The Original Home Schooling Series* Volume 1). Charlotte Mason Research & Supply, 1989, 211-214
—
Disclosure: Mummy's Homeschool™ is an information site that receives compensation if readers make purchases from affiliate links (these are marked with an *). If we receive compensation from the companies whose products we review, this would be disclosed. These compensation help to maintain and grow Mummy's Homeschool™. We test each product thoroughly and give ratings according to our experience with it. We are independently owned and the opinions expressed here are our own.