During the final 2 weeks of the school holidays, we were busy visiting Singapore and Taipei, Taiwan. We love getting Taiwan-made educational toys at attractive prices. Today's post shall introduce you to Gigo Junior Engineer and Story Line series…
The children have been enjoying their 3 boxes of Junior Engineer toys for several years. We've got Junior Engineer, Mini Zoo (with ball tracks) and Magic Gears.
5y2m Jae is ready to move to construction pieces smaller than LEGO Duplo, but regular LEGO gets too messy with 3y3m El in the house. So that's where Gigo's Story Line series caught my attention — neither too big nor too small. We visited Gigo's Taipei store, wanting to grab the Story Line series.
Gigo Story Line series
Indeed, the series impressed me — easy-to-hold pieces and patented joints that allow the models to move in various directions.
Dino Park: Since the boys love dinosaurs, this set is absolutely suitable. They could build various dinosaurs with movable heads, legs and tails.
Speed Chaser: This Speed Chaser set lets them build different vehicles.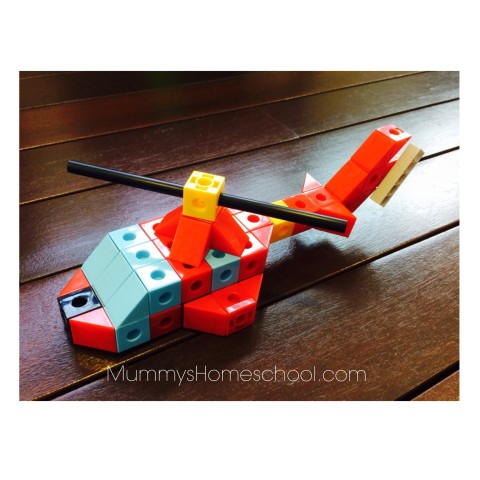 Heavy vehicles: Jae has been asking me to get him a toy digger, which I've put on hold. (I buy toys based on research rather than request.)
This set is for building at least 10 different heavy vehicles such as the bulldozer, tower crane, cement truck and more. Perfect!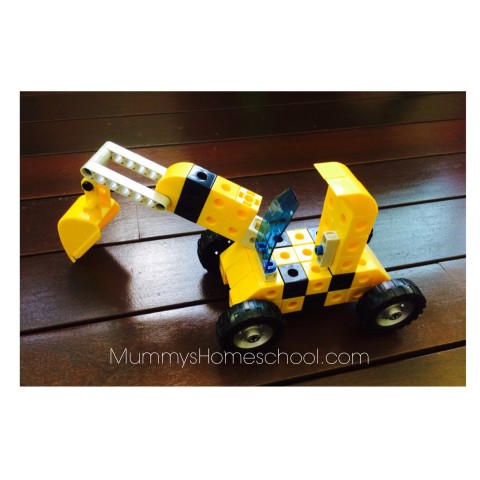 Each box set contains about 120 pieces and is priced at TWD649 before discount. After 15% discount, each set was about SGD25 / RM77 / USD17, which we find value-for-money.
Junior Engineer
Junior Engineer has been the kids' staple construction toys for years. Someone would play with it every day, building anything from pretend violin, ladders, ball tracks, animals, buildings to vehicles and more.
The large chunky pieces are easy for a toddler to handle. My kids started playing with these from about 18 months old. Then they build progressively more complex models. Even I played with similar toys as a toddler!
(Note: for young toddlers, keep away ALL small parts.)
Almost-8yo Vee seemed to have finally outgrown these until… we saw the huge Theme Park set in Taipei. As a theme park fan, he was attracted by the huge ferris wheel, merry-go-round, and thrill rides the set offers. Daddy-the-ex-engineer is always supportive of developing the kids' engineering mind and decided to get it.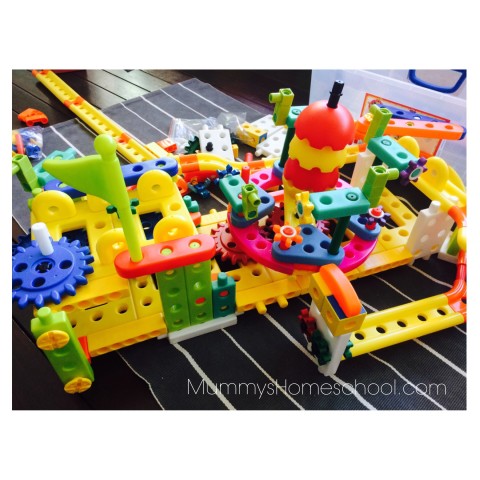 Vee immersed himself in it upon our return until school started, building various complex models (in the booklet) over 3 days. He needed help with looping and tying the rope. Otherwise, we had peace from him for many hours when he literally put his mind and body to constructive use.

This alone makes the set a totally worthwhile investment. Peace at home with the 3 boys around is priceless!
By the way, the smaller Junior Engineer kits cost about RM220 (SGD71 / USD50) while the Theme Park set cost about TWD4000 (SGD180 / RM565 / USD127).
Where to get
Below are some places to find Gigo toys:
Taiwan: Gigo website here
Singapore: Growing Fun
Malaysia: Brainet, Popular Bookstore (IPC Shopping Centre)
Based elsewhere? Check out the prices at Amazon here*
Have fun with your little ones!
~ MieVee
MummysHomeschool.com
P.S. Check out my workshops here
—
Disclosure: Mummy's Homeschool™ is an information site that receives compensation if readers make purchases from affiliate links (these are marked with an *). If we receive compensation from the companies whose products we review, this would be disclosed. These compensation help to maintain and grow Mummy's Homeschool™. We are independently owned and the opinions expressed here are our own.