Since Lunar New Year (LNY) is on 28 Jan this year, we find ourselves busy preparing again.
The good thing about homeschooling preschool is that I get a longer stretch of time at home by cutting off traveling time. And the young kids get to watch how I get the house ready and learn too. It's not like they go to school and the house is magically transformed when they're back.
The activities below cover practical life, fine motor skills, math geometry and art.
Activity 1: Spring Cleaning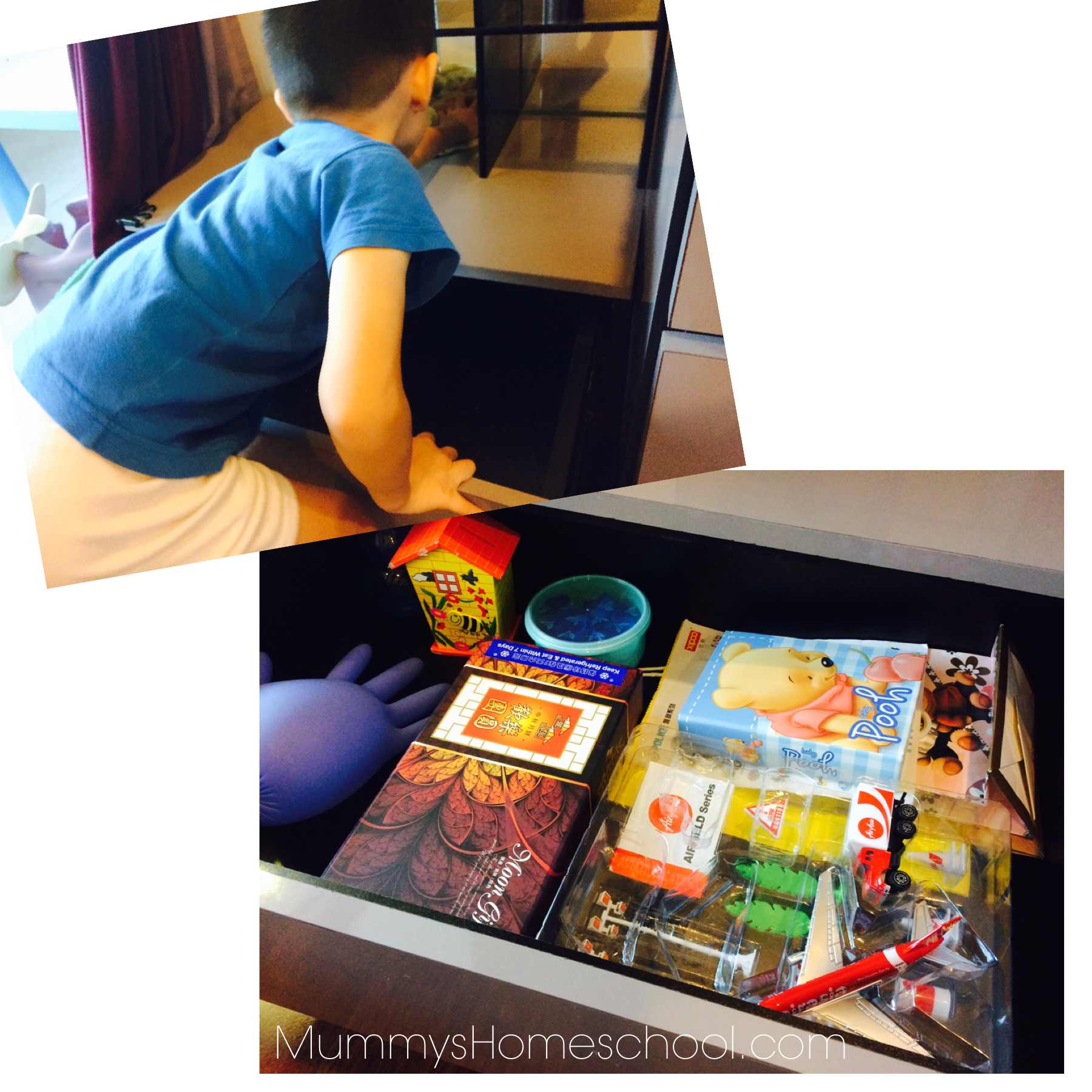 The most important thing for us is to spring clean and clear out the clutter at home. Since LNY is so early this year, I've been clearing out old stuff since early December!
Today our target is the kids' "special place". Each child has a personal drawer where he stores his collection of special things, such as piggy bank, photo album, souvenirs, old vouchers, small toys and handicraft. Over the months, the stuff start piling up and the each special place resembles a special rubbish dump instead.
5y2m Jae and 3y2m El enthusiastically removed all the items and sorted them into three piles:
To keep
To file away
To recycle or throw
(This seemingly-simple activity requires quick judgment, decision-making and organisation skills.)
Then they wiped the drawer (and neighbouring furniture) thoroughly with a damp cloth, followed by a dry cloth.
And ta da… each special place is neat and tidy again. My future daughters-in-law will be thankful to me for all these early training sessions.
Activity 2: Red packet latterns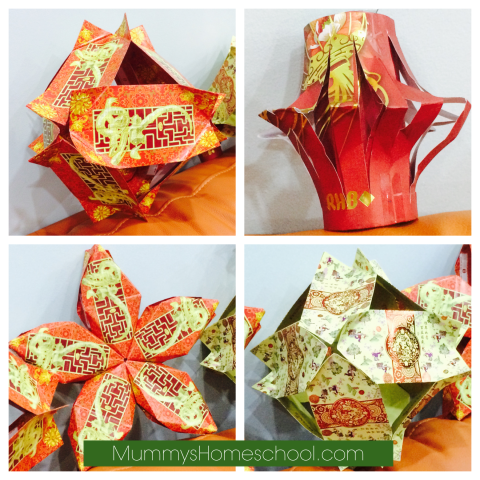 I found many extra red packets from last year, so we recycled them to make latterns for the first time. It's easier to do crafts now that our youngest El is more cooperative and independent.
The children (who already love origami) were so eager to make these that they folded and stapled red packets until their fingers were sore.
I personally love this activity too because it brings math geometry alive by transforming 2D red packets into a wide variety of gorgeous 3D shapes.
For more ideas and tutorials, check out Submerryn's blog here.
Activity 3: Chicken handicraft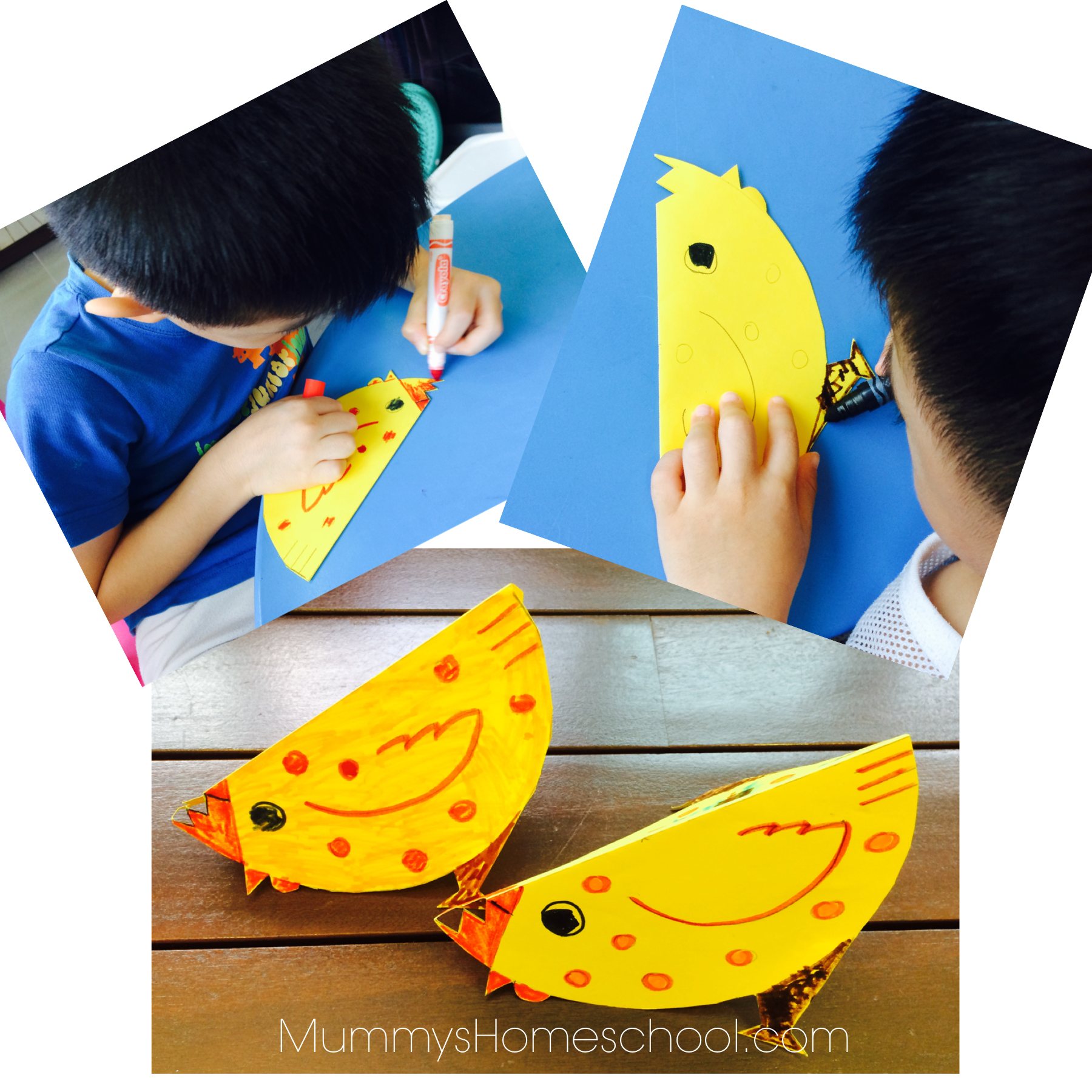 Last year, we bought some pretty monkey-themed decorations and actually left them stuck until now since they aren't reusable. (It'd have been a waste to throw them out after displaying for only one month.)
Today, we finally removed them and started doing DIY chicken-related craft to decorate the house.
(Note to our non-Chinese readers: It's currently the lunar year of Monkey, and is going to be the year of Rooster.)
Jae is in love with cutting symmetrical shapes, so I found an activity that involved cutting a symmetrical chicken. (Hidden math skill again)
Both boys enjoyed colouring their chickens although El's looked like it fell into mud. Oops!
Find more chicken craft ideas at Womenclub.co here. This year, we'd also explore using recycled materials such as used bottles, old magazines, cardboard and (of course) old red packets to create home decorations. This would minimise creation of new garbage.
It's going to be a busy final weekend before LNY arrives. Have a great time!
~ MieVee
MummysHomeschool.com
P.S. Check out my workshops here