Many parents have asked how I manage to teach 3 little children at home and what's my schedule. Here's a short post…
3 out of 5 weekday mornings, Vee does 1 hour of home-learning / home practice with me before going off to kindergarten. (The other 2 mornings, our Malay home tutor takes over because I can't teach a language I don't know.)
Anyway, during those 3 mornings, I have to teach Vee with the 2 little ones hanging around. They choose to play or do activities too. (After sending Vee to school, then I'd focus more on them.) And here's where Montessori method is fabulous…
A sneak peek into yesterday morning's peaceful session where my job as a "Montessori home directress" was  to stand back, observe and assist only when needed. With time to take photos too!
El (1 year 9 months) was working with locks and keys. He enjoys saying "unlock". And during the day, if we say "undo", "untie", "un-[fill-in-the-blank]", he'd say "unlock".
Great way to do big / medium / small matching of locks and keys, and train up fine motor skills too.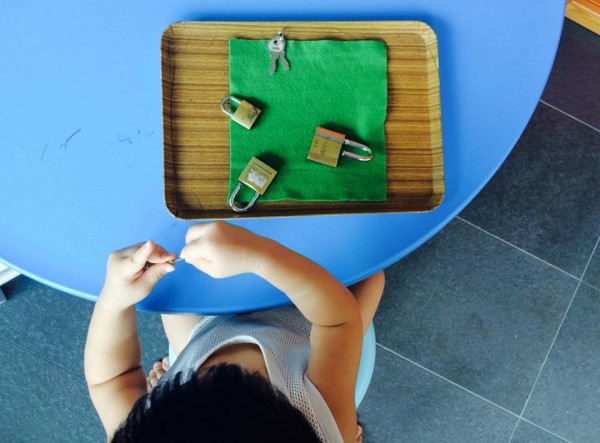 At a nearby table, Jae (3 years 9 months) was busy with mazes. For such activities, we always use:
tray to hold stationery
dry-erase marker pen (I love Crayola ones, non-toxic, no pungent smell and rather washable.)
small whiteboard duster
plastic sheet protector (so that the activity book / worksheet / printable can be used over and over again. Great with multiple children.)
Vee used to enjoy mazes during Shichida classes too. Now it's Jae's turn. He has finally learnt how to work his way out of the mazes independently, and doesn't need my close guidance anymore.
At a higher study desk in a corner, Vee (6 years 5 months) was busy self-learning Chinese. He's been fascinated by this Chinese strokes reference book and is in a writing frenzy again.
He'd copy each character by following the strokes order and figure out how to read them by guessing the hanyu pinyin (which I haven't formally taught him yet).
And this is a boy who "hated" colouring and writing at 4 years old. Thankfully, I followed the Montessori method and let him bloom at his own time.
So taa daa… a successful and peaceful morning learning session during which the self-correcting materials did the teaching work and I just had to stand back and watch.
—
Want to know how to achieve the above? I'd be launching my NEW home practice intensive workshops (KL 6 Sep 2015 and SG 6 Dec 2015) real soon. In the meantime, enjoy the new posts.
Part 1: Core elements of unleashing your child's potential
Part 2: The most important thing before teaching your child
Part 3: Grabbing your child's attention for learning
—
P.S. Check out my NEW home practice intensive workshops on (KL 6 Sep 2015 and SG 6 Dec 2015) here.
—
Please leave your comments and CLICK "Like" or "Share" to share this post with your friends.