Vee has turned 4 years 4 months old, and here's his overdue learning progress update…
Right Brain Education
Vee enjoyed the first half of Shichida's 4-year old class, which covered right brain activities — mainly imaging, HSP and memory games.
But he was often uncooperative during the second half of the lesson. This covered left brain activities, where the children were given worksheets to be completed with a dry erase marker pen. There were few or no manipulatives to work with, unlike in the younger classes. The worksheets included mazes, copying simple figures, IQ questions, spelling, matching, addition matrix, etc. Basically, more writing to do, which Vee isn't always ready to do much of.
If he were well-rested and in a good mood, things went well. Otherwise, he won't do the activities, took his own sweet time, or won't let me show him how to complete the work, then got upset when sinsei had to move on to the next activity.
Moreover, our homeschool lessons stopped during my first trimester pregnancy and he became really bored. After we resumed lessons these couple of months, he's back to being a productive and contented child.
Eye Training: After so long, he's finally able to move his eyeballs according to the patterns rather well. It's easiest when I hold a small card and let his eyes follow.
Flashcards: As mentioned in the previous update, he's starting to recall facts from flashcards, even though the sessions aren't intended for memorising. At an Italian restaurant, he recognised a large painting hung on the wall as part our Famous Paintings set. I wasn't sure though. At home, he told me that it's "The Venus". Indeed, it's "The Birth of Venus", a 1486 painting by Sandro Botticelli.
Memory: He still loves Flash Memory using pictures of MPVs and is now able to recite quickly all 48 models in the set. I've run out of MPV models to add! To let his tongue practise pronouncing long technical words, I use the full model names, such as "Citroën Nemo Multispace" and "Daihatsu Materia", which he finds challenging.
I've bought the advanced Linking Memory sets meant for 5-year olds and above, to renew his interest. There're 20 sets, covering 1000 pictures. He completed Set 1 easily because there're pictures he like — skeleton and hot air balloon. Set 2 has nothing that resonates with him, so he says it's tough and is uninterested. Bleah, he's definitely not easy to please!
Mandala: He still doesn't like colouring the Mandala worksheets at home, and only puts a tick at the correct areas. I bought the Mandala set from the Shichida centre. These are magnetic foam pieces that he can arrange to match what I showed him. A big hit! He kept wanting to do more.
Audio memory: After his revived interest in Addition +1 to +10 songs, he's able to do simple addition sums by intuition and mentally. For instance, when we play Monopoly Deal and he needs to pay me $6m, he'll give me $3m + $3m.
Once he didn't get the sum right, so I asked him to try again. He pointed to blank space and started "counting" 3 dots + 3 dots = 6 dots. This is the first time he showed the ability to do math through visualising. Because of this milestone, I'm now able to teach him simple math by "counting" in space, without using manipulatives, and he gets it. This is useful for explaining math concepts when on the go.
Puzzles: He has been very into IQ Genius 3 bought from the Shichida centre. These are blocks in various shapes to form 3D figures. He wasn't glued to IQ Genius 1 and 2 when younger, but is somehow drawn into set 3. He started with completing the 3x3x3 puzzles daily, and is now fascinated with the 4x4x4 ones. I leave the set in the living room for his easy access and he has been playing with them up to 3 times a day. No wonder he's so familiar with the various combinations!
We visited a kids' education fair and he tried out many puzzle games, eventually choosing Hedgehog Escape by Popular Playthings
*. He loves to solve the puzzles and can do up to 19 in one sitting until he has exhausted himself mentally. Ha…
As of this week, we're no longer attending Shichida classes. The main reason is that Vee's attending more music classes (his big passion now), and we'd like to keep one day during weekend free for excursions.
At home, we continue to do home practice for the right brain activities while Montessori and other puzzle / IQ games cover the left brain areas. The only downside is the lack of exposure to positive peer influence from class. Hopefully, having 3 kids (soon) doing home practice can further raise our energy level at home. Also, if music classes don't work out, we might be back to Shichida lessons again.
Montessori
Practical Life: He has mastered using the chopsticks and enjoys eating with them. In the picture below, he's using a pair of short chopsticks bought at Shichida centre. The regular chopsticks are too long for his small hands, so he found it hard to succeed during our Montessori activity. Once he tried the short chopsticks, he mastered using them almost immediately. The importance of child-sized utensils!
As a side note, he didn't use training chopsticks when younger. Somehow, I thought that these would create dependence on the loops. Instead, I introduced chopsticks until his fine motor skills are stronger and he asked to use chopsticks during meal-times.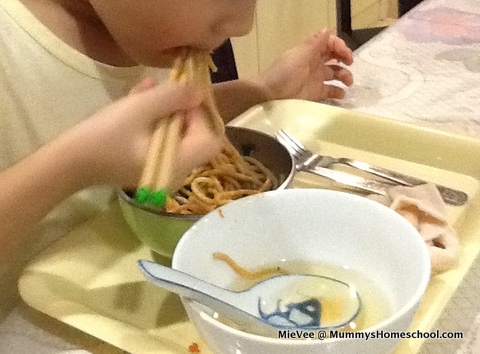 Sensorial: For a while, he was all into the Geometry Cabinet, working diligently to memorise the names of the shapes. I'd to work my brains too, learning the names of the various triangles, octagons, etc. Teaching him Montessori is like going to school all over again and learning many things I wasn't taught before.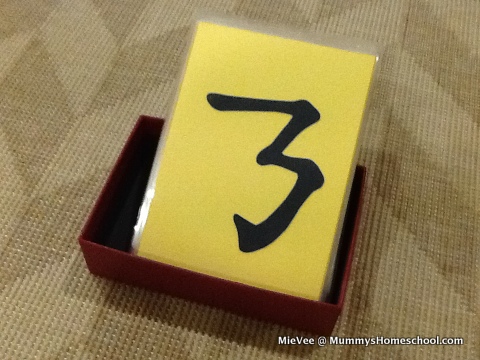 Writing: After learning the strokes with flashcards and Sandpaper materials, he started writing Chinese characters. He likes (and is very amused by) complex strokes such as 横折折折钩 in "乃". (Download the free printables in the Resources section.)
He doesn't enjoy writing much on the worksheets laid on shelves for his selection. Instead, he's practising on our small whiteboard. Every Saturday, he also helps to check the remaining supplies of milk, pasta, etc. and writes out the grocery shopping list.
Language (English): I just started preparing the Pink reading materials, which is rather overdue for him. In the meantime, we've gone through Oxford's Read at Home Level 1 and he's able to read the words both by sight and phonics. He has started looking at the words and doing actual reading instead of pure recitation.
He's ready for double phonograms, so the ball's in my hand to get the teaching materials ready SOON. We first covered "oo" and "ee" because he was amused by the sounds. Today, we just focused on "th" during reading time.
For months, he's been picking up Times Giant Book of 4000 Words to read and to be read to. It's a huge book with 400 over pages. Initially, he loved the section on topics to talk about. Now, he loves the dictionary sections. Actually, this book (with many drawings familiar to Singaporeans) is a little outdated, but Vee has learnt many words from it, so it's still a wonderful keep.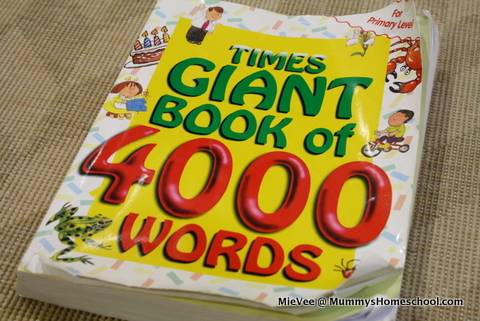 These few months, we've been visiting a small library almost every week. He chooses the books that he's interested in and we've been reading more broadly. His favourites surround vehicles, firemen, policemen and animals.
Language (Chinese): He's still interested in reading Chinese words, so I've prepared materials based on the Odonata (红蜻蜓) reading series. We'd fun making hilarious sentences with the word cards.
After a long search for good books, I finally bought 2 new series (from ibaby [dot] my):
童话经典花格子大象艾玛系列 (Elmer the Patchwork Elephant, Chinese series, 10 books in the set)
杨红樱画本•好性格系列(第2辑) (A good character series, 10 books in the set)
We're at the first couple of books; Vee loves the illustrations and story lines, and helps to read familiar words aloud.
Mathematics: While doing Shichida worksheets, we learnt about addition and number bonding using bamboo chopsticks from Daiso. (These chopsticks were meant to be used as spindle rods.) For instance, when solving 9 + 3 = ?, Vee transfers 9 chopsticks to the tray, then another 3 chopsticks. He counts the total; when he reaches 10, he ties the bundle with a rubber band. He can easily see that the sum is 12.
He likes the number 100 and patiently filled our homemade hundred board with recycled bottle caps. In case you've lots of bottle caps too, you may download the template from the Resources page.
I finally bought the Montessori Math materials and got the Math shelf ready. So far, we've covered the Large Number Rods, having fun with addition / subtraction. He loves the bead materials, making coloured snakes and turning them into golden snakes. (Actually, he's subconsciously learning the making of tens.)
Since he's interested in hundreds and thousands, I jumped forward and laid out the wooden hundred squares to let him visualise 1000 to 4000 dots. (Montessori and Shichida methods are similar in some ways.) He started removing them to experiment with subtraction in hundreds. I love these Montessori materials!
Behaviour: Even though Vee's homeschooled, he has sufficient opportunity to interact with other adults and children. During the June holidays, his friends from Singapore visited and they'd fun playing at our place and going out together. (The children's dining table is great for hosting the kids during snack time.) He also plays with his cousins weekly and his classmates during music and swimming lessons.
Other Learning Activities
Language (Bahasa Malaysia): We didn't do much for BM. A dear friend helped record part of our Paul dan Mary series into audio files.
Music: Vee's progressing well at the Harmony Road Music Course. He listens to the course CD almost daily, and can play simple songs by memory after I show him a few times, including using the black keys.
He has been very keen to play with both hands while the group class isn't teaching that yet. So he started his first individual piano class, to supplement what he learns from Harmony Road. He has been practising diligently and is very satisfied that he can finally play with both hands. 🙂
His group class teacher, who's proficient in violin, suggested that he try out violin too since his hearing is excellent. So we'd be trying out the school's Suzuki violin class. He said he's interested to try out the violin because there's a "stick". Anyway, we'll go with his flow and interest in music. Homeschooling allows him a lot of freedom to practice whenever he wants to and for as long as he likes. The thing is I've another subject to learn and guide!
Also, music classes and instruments cost money! Depending on family finances, he may have to choose only 1 favourite instrument in future.  If he wants to pursue a career in music, we're open to that idea too. Erm… just that his current ambition is to be an ambulance driver. (He no longer wants to be a chef.)
Art & Creativity: Vee loves painting, and has tried batik painting and painting suncatchers. He also did a piece of sand art. I took the plunge to whip up some homemade sand, which feels like powdery dough and easy to clean up.
Recipe for homemade sand: mix 4 parts flour to 1 part oil. I used regular white flour and organic coconut oil. You may try out with other oil you think is suitable. Tools: big baking tray, extra tray, cookie cutters. Just play and store in airtight container in fridge after that.
I'm very paranoid about messy art, especially with Jae around. So I stick to activities that Vee can clean up by himself or need minimal cleaning up by me (who's 6 months pregnant).
Vee usually draws with marker pens. I'll ask him questions about the "story" in his mind and he'll continue drawing more details.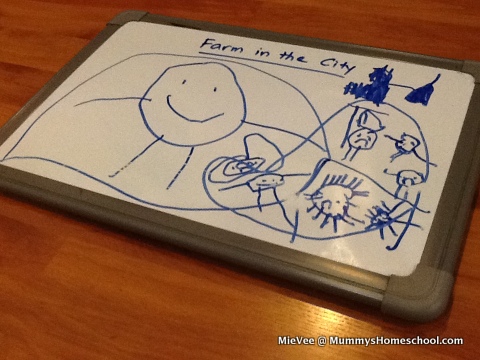 Swimming: He's finally able to swim forward by holding a board and kicking his legs. He still doesn't want to try immersing his head underwater. But when he slipped into water after going down water slides, he was ok and not frantic like in the past.
Excursions: Thanks to several public holidays and visiting friends, we visited Singapore, Kidzania, Farm in the City, Genting Strawberry Farm, Bukit Tinggi Animal Farm, and spent 2+ days rocking out at Hard Rock Penang.
This is a long post simply because it summarises what we've done in 4 months. We only do a bit each day, go with the flow, and somehow things add up gradually. I like how relaxing homeschooling is (especially when norturnal me doesn't need to wake up early every morning) and Vee certainly loves it too… 🙂
—
P.S. Join Mummy's Homeschool Facebook page here to view interesting information and links related to homeschooling.
—
Disclosure: Mummy's Homeschool™ is an information site that receives compensation if readers make purchases from affiliate links (these are marked with an *). If we receive compensation from the companies whose products we review, this would be disclosed. These compensation help to maintain and grow Mummy's Homeschool™. We test each product thoroughly and give ratings according to our experience with it. We are independently owned and the opinions expressed here are our own.