To answer many Mummies' enquiries on "How to Make Shichida Flashcards", here's a detailed tutorial with tips.
Basic steps?
Think of a topic (that either you or your child finds interesting)
Find a relevant list online or compile one. Wikipedia is a good resource.
Find a suitable image for each item on the list
Create the soft copy flashcards file (you may download our template later)
Print, cut and glue the flashcards
What information to include on the flashcards?
Title card: simple title. Decorate it a little if you wish to.
Front of flashcard: a large and clear image. Preferably on a white background. Do a tight crop, or cut around the borders of the object
Back of flashcard: write the name of the object in pen (Writing in pencil is too faint and hard to read when speed flashing.) In small font is fine, as long as you can read it.
Especially if you're exchanging cards, write the name in the top middle of the card. This facilitates both left and right-handers.
For certain topics, you may wish to let the child study more information regarding each image. You may then include more information behind the card. Refer to the sample below:
Perhaps 80% to 90% of my week's flashcards set are made of flashing images. The rest, I may include some English words, Chinese characters or numerals. For a baby or young child who hasn't shown interest in reading, I may not even flash any word.
How big should the flashcards be?
Most objects/images: usually A5 (=1/2 A4)
Random / variety / organised dots / poems / songs: usually A4
Images with more details: A4 (e.g. our Famous Paintings set)
What type of paper to use?
Name of paper: Art card (for print & stick); Laser card (for direct printing)
Weight: 230-310gsm (Heavier cards are sturdier and easier to speed flash)
Coating: Optional. I use 2 glossy sides when writing directly using a marker pen
[Update] For printing directly on the card, please read this post:
[Flashcards] What Printer & Paper to Choose
Where to buy cardstock?
For convenience: Shichida Tensai store
For bulk savings: Find a local paper supplier near you. You may request for some of the A4 paper to be cut into A5.
How to make / print the flashcards?
If you have a printer that can print on thick cardstock (check the specifications!), then print directly onto the cardstock. This is fast and lasting.
If you have a colour inkjet printer, then print on A4 paper (2 images on 1 page for A5 flashcards). Cut with scissors (or buy a paper cutter, much more efficient), and glue onto blank cardstock. Use gluestick instead of watery glue.
Here's an example from Amazon:
For super-ink efficiency, check out the Continuous Ink Supply System (CISS) or ink tank system. I bought an Epson L-series printer with a built-in ink tank, the first brand in the market to launch such a series. (If you convert other printers into CISS, you'd void the warranty.)
For dot cards, you may buy round coloured stickers from a stationery shop. From what I read, usually red for young babies and any clear colours (e.g. blue/green/orange/pink) for older children. ~1cm in diameter each. (I've used smaller ones for my multiplication cards.) Then stick onto blank cardstock.
Here's an example from Amazon:
And here's our multiplication flashcards: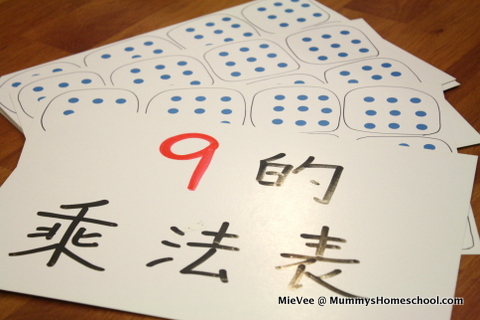 How to flash the flashcards?
Tool: Buy a thumb cover from a stationery shop or Daiso. Preferably transparent or cream colour to camouflage it. Else, other colours are also fine, just try to hide it from the child's view to prevent distracting her.
This is an example of what it looks like in Amazon:
Quantity: I flash about 10 cards per topic each time. For some favourite topics, Vee prefers that I flash the entire set at one go; this may be up to 40+ cards. So it depends on your child's attention span. About 200 cards per day (can be broken into short sessions)
Repetition: Generally no within the same day, unless my child specifically requests for it
Rotation: Every day, I shuffle the cards within most topics (except cards for math, time, etc. that are sequential). Every week, I try to replace the entire set of ~200 cards. If I'm tired/busy, we may use the same set for several weeks, with daily shuffling and playing a variety of guessing games with the cards.
Speed: 1 to 3 cards per second
Some variety when flashing:

Image – Image – Image – Image …
Image – Word – Image – Word …
Image – (flip horizontally) Word – Image – (flip horizontally) Word …
Image – (flip vertically) Word – Image – (flip vertically) Word …
More tips
These are some useful ideas from the flashcards that I've bought.
Index every card in the set with a short "code" to track that the set is complete. Also, this lets me know if I've shuffled the cards before flashing.

E.g. For the Colours set, I'd index the title card as "Colours /12" (i.e. 12 cards in the set). For each colour, the code would be "Colours 1", "Colours 2", etc.

You may write the code in pencil marking behind the flashcard. Or if you're using my template, you may cut out the Name of the card with the code (i.e. the slide number) and stick it behind the card.
Here's when it's good to cut corners: Cut a small triangle off the corner of each card (e.g top left corner). This way, I can stack many sets of cards together (each set in opposite direction) and still find separate sets easily.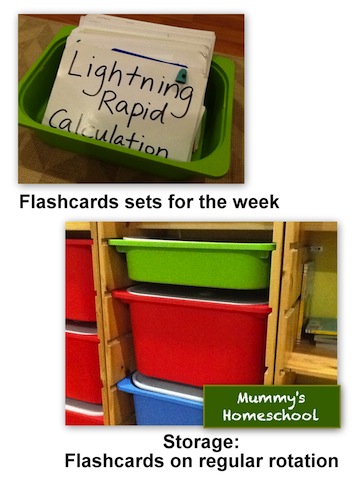 Organisation & storage: We've thousands of flashcards (I didn't count!), so getting them organised is important.

Those on regular rotation (e.g. dot cards): Keep in accessible storage boxes. I use the Ikea Trofast system. Or any sturdy drawer-type storage will do.
Longer storage: Keep A5 cards standing up in Daiso transparent shoe boxes. (They fit perfectly!) Sort by subject topics if you'd like to.
Flashcards for the week: Keep in a flat box/tray, together with the thumb cover. Anytime I need it, just pull it out, get the kids to do deep breathing, and start flashing.
Where to download free flashcards?
Our blank Flashcards – Template (.ODP, 13kb, updated in January 2014) – Blank template for creating your own flashcards. Includes method of indexing the cards. Can be opened with free OpenOffice software.
(Video tutorial on how to edit the total number of pages here.)
More ideas for topics?
Due to copyright reasons, I've printed many flashcards that can't be uploaded for sharing. Here are some useful topics with references:
Have fun creating your own flashcards!
[Update] For printing directly on the card, please refer to the latest printer and paper recommendation in this post:
[Flashcards] What Printer & Paper to Choose