Here's a tutorial on how to make hundreds of Shichida flashcards easily. For the basics, you may wish to read my first tutorial on How to Make Shichida Flashcards first.
Update: I no longer use this Print & Stick method to make flashcards. Instead, I print directly on thick paper or cards (230 to 275gsm, depending on your printer). Saves even more time and money.
>>> Read this: [Flashcards] Which printer saves LOTSA time & money?
We are busy mums…
Since Baby El turned about 2 months old, I've resumed making flashcards. My target is 100 to 200 cards a week.
The new cards are mainly for 5-year old Vee (who needs many new cards every week) and Baby El (since I didn't have many black / white / red infant flashcards). 2-year old Jae may use all of Vee's previous and current flashcards.
A reader, Verrone, commented that she uses adhesive labels to make flashcards. I've tried the method and found it extremely time-efficient for high-volume DIY flashcard projects, so scroll down for the complete details of making up to 100 flashcards in just 2 hours.
What you'll need
For A5 flashcards
1. Blank A5 card stock (~300gsm)
2. A4 adhesive labels
3. Rotary trimmer with size guide
A good trimmer allows me to cut stacks of paper accurately and quickly compared to using scissors.
Steps
Make flashcards using my Flashcards – Template (updated in January 2014, .ODP file that can be edited with free OpenOffice software, 13kb)
Export as PDF file (so that the images can be printed larger than from .ODP file)
Print soft copy of flashcards on A4 adhesive labels (2 pages to 1 sheet)
Trim 4 sides by about 1cm using the rotary trimmer (my trimmer can take 5 labels each time)
Cut printed labels into half using trimmer
Arrange in correct order (the printed page number will guide you)
Cut out individual flashcard names with trimmer
Stick image on 1 side, name on the other
Cut away top right hand corner (you may also cut the left corner, just be consistent)
Done!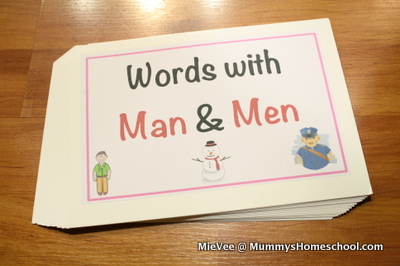 I've blocked out afternoon nap time to make new materials. Step #1 is the most time-consuming if you're making cards of specific topics of interest and are trying to find suitable images. To save time, download flashcards from reliable sources and exchange soft copies with a few like-minded mummies.
Then mass print the cards to get ready for cutting and sticking.
Sticking labels is much more efficient than using glue stick. During that 1 to 2 hours (minus time spent getting Baby El back to sleep if he wakes up), I can stick about 100 flashcards! In contrast, I can only stick about 30+ using glue stick.
Method
Glue Stick
Adhesive Label
Price
Wholesale RM5.60
per large 21g stick
(for ~200 A5 cards)
Wholesale RM23
per 100 A4
(for 200 A5 cards)
Speed
30+ in 2 hours
Up to 100 in 2 hours
Wastage
Glue stick container
Paper backing
.
The cost of materials per DIY A5 flashcard works out to be:
| | | |
| --- | --- | --- |
| Method | Glue Stick | Adhesive Label |
| A5 Card (wholesale) | 7 sen | 7 sen |
| Ink (CISS*) | 1 sen | 1 sen |
| Paper / Label (wholesale) | 1 sen | 11.5 sen |
| Glue | 3 sen | n.a. |
| Total | 12 sen | 19.5 sen |
.
*CISS means Continuous Ink Supply System, a very cheap way to print thousands of pages. My previous regular printer ink cost about 10 sen per A5 card.

Where to buy
1. A4 adhesive labels
If you're in Kuala Lumpur (Malaysia), this is my supplier:
Excelearn Stationer Enterprise
34, Jalan PUJ 3/8,
Taman Puncak Jalil
Sri Kembangan
Selangor 43300
Malaysia
Office: +603 89401050 / 89449050 / 95446541
Mobile: +6012 3272068 / +6016 3383639 / +6010 8913187
Product & price: A4 Label 210 x 297, 100 pieces, RM23
(The downside to this brand of adhesive label is that it gives off a slight pungent smell due to the adhesive glue. I air the labels outdoors for several days till the smell disappears. After handling the sticky side, I'll also wash my hands before handling the kids.)
If you're elsewhere, try contacting your / hubby / sister / best friend's office supplies provider for wholesale rates.
2. Rotary paper trimmer with size guide
My Rexel SmartCut A425 is from CzipLee Bookstore in Bangsar (Kuala Lumpur, Malaysia). Superb quality and integrated with 4 different cutting styles: Straight Cut, Wave Cut, Perforating and Scoring (for folding)
You may check the reviews and prices of other trimmers at Amazon here:
Hope you'd found this post helpful. Happy making flashcards!
—
Disclosure: Mummy's Homeschool™ is an information site that receives compensation if readers make purchases from affiliate links (these are marked with an *). If we receive compensation from the companies whose products we review, this would be disclosed. These compensation help to maintain and grow Mummy's Homeschool™. We test each product thoroughly and give ratings according to our experience with it. We are independently owned and the opinions expressed here are our own.