Here's a short post on the Montessori method of teaching a child to write on a line…
Some time back, I let Vee practise writing on lined paper, but his letters were "jumping" all over the place. So I went back to Karen Tyler's Language album to use the presentation on Line Placement (on page 470).
Her method for making the line placement board required quite a number of materials, so I simplified it by creating a template according to the dimensions provided.
Steps to making the Line Placement Board:
Download the template: Montessori Language Writing Line Placement Board (PDF, 25kb)

Print the file
Stick it onto thick A4 cardstock (I use Art Card)
Cut and laminate
I also created a Control Chart so that the child can check his work.
Download the template: Montessori Language Writing Line Placement Board Control Chart (PDF, 20kb)
Print the file (setting: 12 pages on 1 sheet)
Write the letters "a" to "z" at the correct placement. Use the font and colours consistent with your Language materials.
Laminate
In addition, you'd need to make the letters to be placed on the board (refer to pages 472 to 475):
I printed the letters on A4 adhesive labels
Cut them out, leaving a border around each letter
Stick them onto vanguard sheet (or manila paper) – for us, it's blue for vowels; pink for consonants
Cut each letter out
Laminate
Cut each letter out
Below is a picture of the line placement board with the letter "u" placed on it. On the right, Vee tried writing "u" on a lined paper after practising with the line placement board. Significant improvement!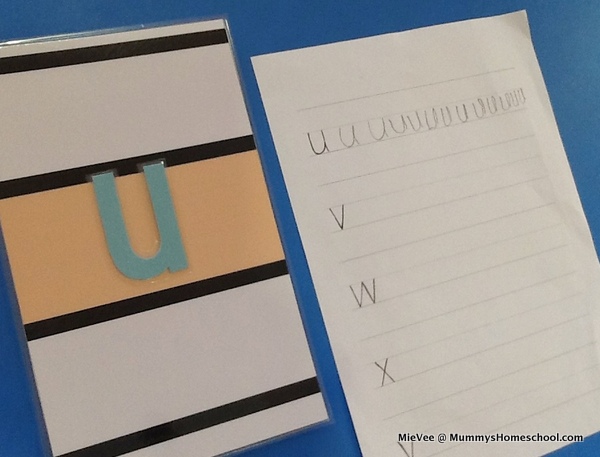 And this is what the Control Chart looks like:
Hope you'd find this resource helpful… 🙂
—
P.S. Download other Montessori printables at our Resources page here.