Living in Malaysia and sometimes Singapore, our family has friends who celebrate Halloween although we don't really do so.
We were invited to a Halloween party once where little El dressed up as a pumpkin and that was about the experience we had.
Nevertheless, the kids spent some time learning about Halloween in English and Chinese.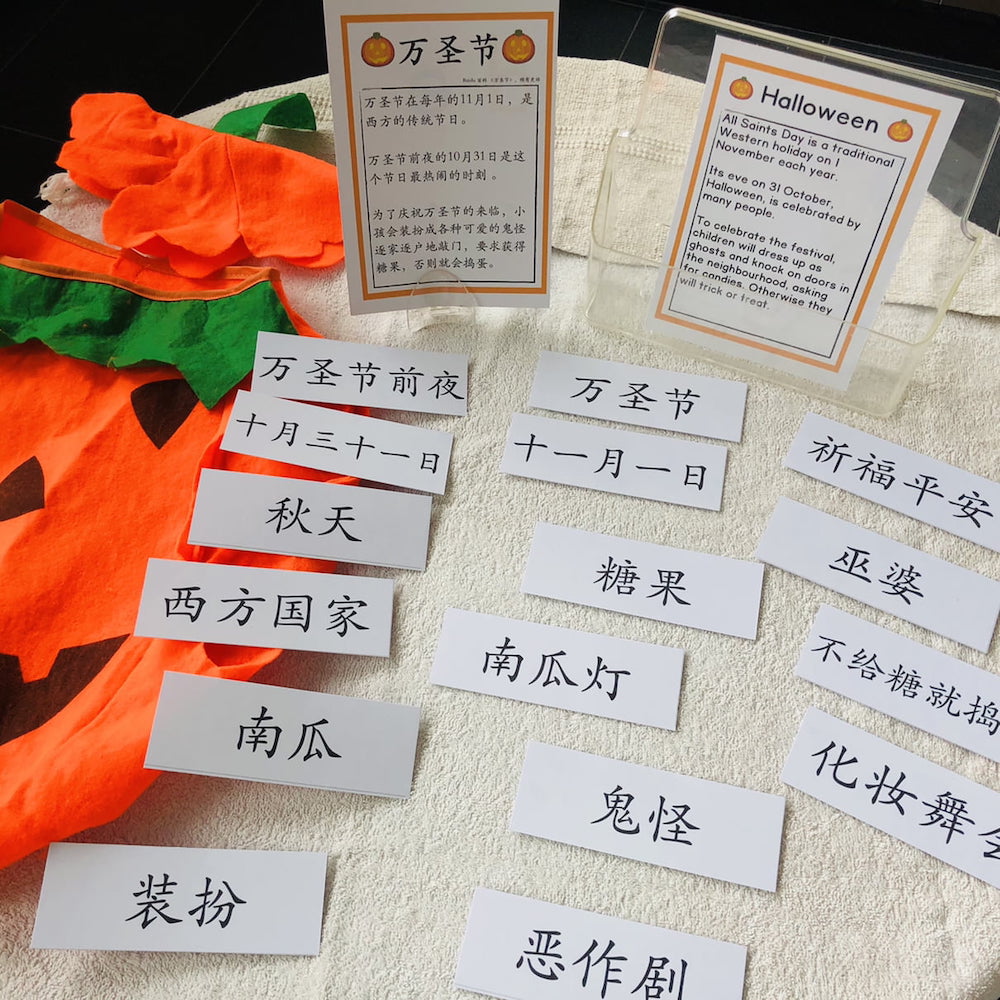 I selected key phrases and made a set of bilingual word flashcards. These are smaller cards (1/8 A4) designed for children learning to read.
As a control of error for Chinese reading, there's Hanyu Pinyin behind each card.
I also made two 1-page write-ups on the festival in English and Chinese for them to practise reading.
You'll get the free printables below.
Materials & Preparation
Printable (download below): print double-side
White/coloured A4 paper or card stock x 3 pieces
Control of Error
Turn behind to check the Hanyu Pinyin and translation.
Other Activities
These are other activities to try:
[Math] Solve Spider-and-Mosquito math puzzle (coming soon!)
Halloween sensory bins
Dressing up
Halloween paper crafts
Halloween-style creative writing
Bake pumpkin pie
Download Free Printables
Download your free printables here
>>> Printable Halloween 万圣节前夜 flashcards (PDF, 74KB)
>>> Printable Halloween Bilingual 1-Page Write-Up (PDF, 156KB)
Happy teaching and learning Chinese!
(Credit: Cover photo by Pexels)
---
Hop on to our other Chinese learning materials:
Join our mailing list below to receive more teaching tips and printables!